Tags
baking, bread, dough, food, homemade pretzels, pretzels, recipe, recipes, secret recipe club, src, yeast bread, yeast dough
Yeast doughs warm my heart and soul.
Nothing calms me more than taking out a packet of yeast, mixing it with some sugar and warm water, letting it foam, kneading it into a pile of flour, and watch it rise, and rise. And then to smell the fresh dough as I form it with my hands, then bake it in the oven … well, it's perfection.
So many people are either afraid of yeast doughs or can't be bothered with setting aside several hours to make a loaf of bread or rolls. But that's the point. Yeast involves some tender love and care. And patience. That's why it's so calming. You have to wait for your dough to rise, and that's some of the best medicine out there. It's magical, but also forces you to slow down from our hectic lifestyles and stresses.
So when I was browsing the archives of this month's Secret Recipe Club assignment, Double the Sugar, and saw a recipe for Homemade Pretzels, I knew it was the winner. It would be the perfect Saturday afternoon activity (which I did with my wonderful friend Kathy over at Kathy Can Cook).
Intrigued?
Drooling?
Need that warm pretzel straight from the oven?
Here's how to do it!
Homemade Pretzels (Adapted from Double the Sugar)
Makes 12 – 14 pretzels
>> CLICK HERE FOR PRINTABLE RECIPE <<
Ingredients:
2 1/4 tsp dry active yeast (One 1/4 oz package)
1/4 tsp coarse salt
2 tsp sugar
1 cup warm water (this means the water is hot to the touch, but not scalding)
3 cups all-purpose flour, plus more for surface
1/8 tsp cayenne pepper
2 tbsp unsalted butter, room temperature, cut into pieces
3 tbsp baking soda
2 tbsp light brown sugar
pretzel salt or coarse salt for sprinkling
Assorted mustards, for serving
Directions:
Mix yeast, coarse salt, sugar, and warm water in a small bowl, whisking until sugar dissolves. Let stand until foamy, about 5 minutes. (NOTE: If your yeast mixture does not bubble after 5-10 minutes, this means your yeast is not activated and your dough will not rise. Dump it and try it again. If it failed to foam, check your expiration date on your yeast and make sure your water is not too hot — this will kill the yeast — and not too cold — this will not activate the yeast.)
Mix flour and cayenne in a large bowl or bowl of a stand mixer. Using a pastry cutter or your fingers, cut butter into flour until mixture resembles coarse crumbs.
Slowly pour yeast mixture over flour mixture, stirring to combine. If you have a stand mixer, attach the dough hook and knead the dough for 5 minutes (you can also gather it and knead it with your hands) until it is no longer sticky and doesn't stick to your hands. Cover the bowl with plastic, and let rise for 30 minutes.
Dust your work surface with flour. Cut dough into 12 – 14 pieces, and roll each into an 18-inch rope. Form a U shape with the dough, and turn the ends in to the center of the U, gently pressing each end together to seal it. Transfer to a baking sheet lined with parchment paper, and repeat. Let the pretzel-shaped dough rise for 20 more minutes.
Preheat oven to 475 degrees F. Bring a large pot of water to a boil, and add baking soda and light brown sugar. Boil pretzels in batches until puffed and slightly shiny, 1 to 2 minutes per side. Transfer to wire racks to drain. Return to baking sheet, sprinkle with desired amount of pretzel salt, and bake until golden brown and cooked through, about 12 – 15 minutes (12 for doughier pretzels, 15 for crunchy). Serve with your favorite mustard. Try not to eat all 12 between two people, but if it happens, it happens.
My Two Cents: You may be seeing additional spices going on in these pictures besides the simple pretzel salt. We were experimenting with a nice Penzey's spice blend that had some Italian herbs and mustard seed in it. It was great! Try experimenting with other spices. Another thing you could do? Stuff them with cheese. Ohhh wouldn't that be something??
Overall, you can't go wrong with homemade yeasty dough. And pretzels are such a treat. I will forever love the crunchy Snyder's from the bag, but a chewy, flavorful, immensely spectacular pretzel dough dipped in mustard? I swoon.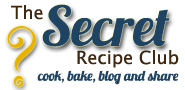 Thanks, Double the Sugar, for another spectacular Secret Recipe Club recipe!
To see all of the recipes from this month's secret recipe club reveal — click the link below!